Sattvic Path Ergonomic Ceramic Neti Pot in Light Sand - Handmade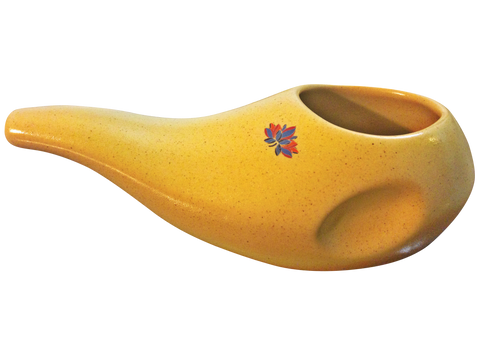 COLOR: Light Sand
THE ANCIENT HEALING SECRET STEMMING FROM THE YOGA TRADITION FOR HEALTH AND PURIFICATION - Sattvic Path Ceramic Neti Pot
- The neti pot is the oldest form of nasal irrigation and was developed as an ayurvedic yoga tradition in ancient India
- The word "neti" means "nasal cleansing" and comes from the historical Indian language, Sanskrit.
Nasal irrigation, which is called jala neti by yogis was very important for yoga because it was one of the six cleansing practices, or "kriyas"
The Sattvic Path Ceramic Neti Pot is hand-crafted by European artisans to be a valued lifetime investment
Our intuitive ergonomic design cuts out the need for a handle, and provides for easy grip and positioning
Our Neti Pots come in four beautifully rustic colors to reflect its ancient roots while creating an intriguing aesthetic
FEATURES AND BENEFITS:
-Unique Handle-free Ergonomic design
-Secure Grip for easy positioning
-Individually Hand-Crafted
-Beautiful rustic colors (Dusk Red, White Dove, Light Sand, Clay Brown)
-Premium Quality - Crafted in Europe by traditional artisans
-100% Lead-Free and Dishwasher/Microwave Safe
We are so proud of the quality of our neti pot that we offer a LIFETIME GUARANTEE! If the pot breaks, ship it back and we will replace it for free.
Stock is limited! Our Sattvic Path neti pots are hand-crafted and NON-mass produced. Order your neti pot today!